Our goal is to provide you with evidence-based, safe, compassionate care to promote healing that lasts.
Our ketamine treatment program combines ketamine medication and psychotherapy with that goal in mind.
Intravenous Ketamine
Intravenous ketamine is an anesthetic medication that is being used "off label" to treat mood disorders such as depression, anxiety and ptsd.
It is a non-opioid that has a strong antidepressant effect, as well as sedative, and pain-relieving effect.
It also has healing effect for symptoms of post-traumatic stress disorder; Anxiety spectrum disorders, such as phobias, social anxiety disorder, generalized anxiety disorder and panic disorder.
Interdisciplinary Expertise
Our interdisciplinary team combines expertise in anesthesiology, psychiatry, nursing care, and psychotherapy to understand your unique health condition and to devise your personalized treatment plan that best meets your needs.
As a team, we are guided by our values of compassion, evidence, and safety to provide you the best care. Our goal is to empower you to develop healthier habits and thought patterns for lasting positive change in your mood and well-being
Psychotherapy
Psychotherapy when received soon after ketamine treatment extends the effectiveness of ketamine treatment leading to longer lasting remission. As a team, our psychotherapist and doctor will help you to develop skills, tools, and fresh perspectives, so you may break free of negative thought patterns and habits in a compassionate space of listening and encouragement.
Who We Treat
Depression
People with major depression who have severe symptoms, such as inability to feel pleasure, suicidal ideation or other pervasive negative mental fixations.
The conventional non-medication treatments such as psychotherapy or psychiatric support have been tried or ongoing, fail to improve your condition. Multiple anti-depressant medications taken together, at sufficient doses to be considered effective do not improve your condition or cause unacceptable side effects. Interventional psychiatric treatments such as electroconvulsive therapy ECT, Transcranial Magnetic Stimulation rTMS, have either failed to improve your condition or are unacceptable to you.
PTSD
People who experience PTSD symptoms of recurrent intrusive or distressing memories and reactions to cues that resemble a previously experienced traumatic event. These symptoms frequently are associated with depressed mood, negative beliefs or emotional states, loss of ability to experience pleasure and social isolation.
Mental health supports for you and medications like SSRI class (Sertraline) or other medication classes SNRI (Venlafaxine), Atypical (Aripiprazole, Mirtazapine) may have had no effect on your condition or caused you to experience an intolerable medication side effect.
Anxiety
People with anxiety spectrum disorders such as specific phobias (for example agoraphobia), social anxiety, panic disorder or generalized anxiety may suffer with only partial improvement in their symptoms or frequent relapses even when receiving mental health support. Medications for anxiety may take too long to be effective, bring an acute worsening of the condition for example SSRI class on initiation or they may have unacceptable side effects with long term use, such as physical and psychological dependency on benzodiazepines.
Medical Cannabis
Medical Cannabis is not the same as "Recreational Marijuana". Medical Cannabis is prescribed by a doctor who assesses your health condition, medications, and personal life situation.
Your doctor will provide you access to medical cannabis. You will be guided to administer your medication safely and monitor for impairment and side effects.
Who We Treat
We treat those who have following health conditions with Cannabis: Chronic Pain, Neuropathic Pain, Insomnia, Depression, Anxiety, and many other health conditions
Learn More
Your Cannabis Treatment Plan
At Caledon Clinic medical cannabis consultations are in person or by telemedicine. The doctor will create a treatment plan that is personalized for your unique situation. You will receive access to medical cannabis, in addition, you will receive guidance on how to use mind-body connection therapies to consolidate the benefits of medical cannabis.
Ketamine-Assisted Psychotherapy
At Caledon Clinic, we recognize the intricate nature of mental health problems, acknowledging that they encompass much more than chemical changes in the brain.
Ketamine has been demonstrated to alleviate symptoms associated with certain mental health problems. Research highlights the benefits of an integrative approach that combines ketamine and psychotherapy. Caledon Clinic takes this integrative approach to promote healing that lasts.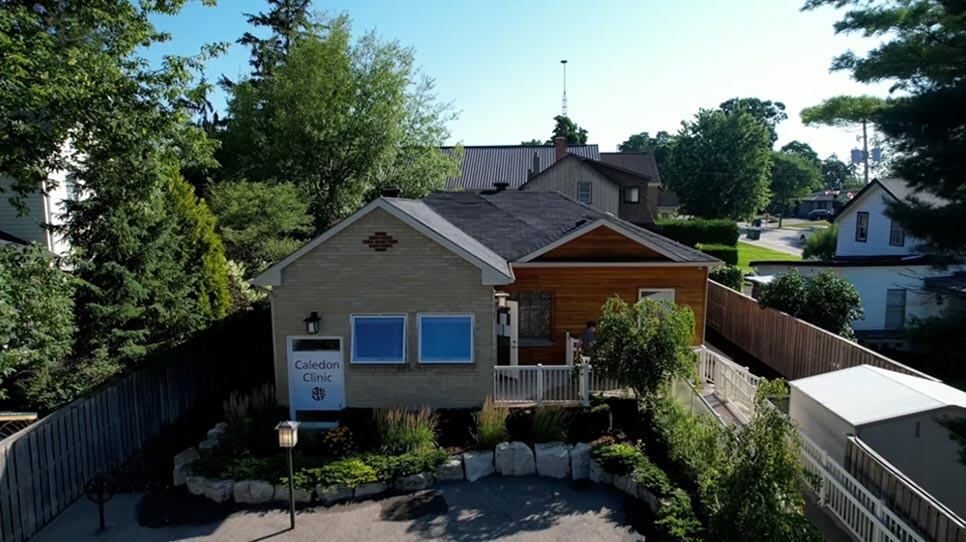 Begin Your Healing Journey with Caledon Clinic
Start the Process
Contact us if you have questions regarding how to proceed
OR
Book a consultation with your Family Doctor or Psychiatrist and they can send us your referral.
Choose a Treatment Plan
Once we receive your referral from your doctor, we will book a medical consultation for you with the doctor at the clinic. Our psychiatrist and anesthesiologist will review your medical history and together create a treatment plan for you.
Begin Treatment
Following your medical consultation your treatment will begin. We will be by your side every step of the way and the treatment plan will be tailored to suit your needs.
Our Approach
We are committed to providing you with exceptional care, guided by our core values of compassion, evidence and safety.
All treatment plans are shaped by a balanced consideration of relative risks and benefits for you.
We follow a multi-modal philosophy to treatment of mental health problems and understand the interdependent function of neural pathways that regulate mood symptoms.
An initial consultation with the doctor to develop a comprehensive symptom assessment and review of current health status to identify special considerations in your treatment plan.
We will recommend a treatment plan that will address therapy dimensions to improve your health condition, including psychotherapy, medications, and mind-body connection therapies.
Your treatment plan may include recommendations for: ketamine therapy, medical cannabis therapy, and psychotherapy.