Our Core Values
Our team's commitment to providing exceptional care to you is guided by our core values of compassion, evidence, and safety.
Compassion
We believe in treating our patients with compassion and understanding. We recognize that living with chronic health conditions such as treatment-resistant depression, PTSD and anxiety can be challenging, and we are committed to providing treatments that can help.
Evidence
We prioritize evidence-based prescribing and therapeutic practices, using the most scientifically sound approach to patient care. We are also committed to working collaboratively with our patients to develop personalized treatment plans.
Safety
Your safety is of utmost importance to us at Caledon Clinic. We follow best practices for the safe delivery of treatments and for infection control as set out by the College of Physicians and Surgeons (CPSO). We have been approved as a Level 2 Out of Hospital Premises clinic by the CPSO.
Our Approach
All treatment plans are shaped by a balanced consideration of relative risks and benefits for you.
Our approach incorporates the multi-modal philosophy, which recognizes the interdependent function of neural pathways that regulate pain and mood symptoms.
An initial consultation with the doctor to develop a comprehensive symptom assessment and review of current health status to identify special considerations in your treatment plan.
We will recommend a treatment plan that will address therapy dimensions to improve your health condition, including psychotherapy, medications, and mind-body connection therapies.
Your treatment plan may include recommendations for: ketamine therapy, medical cannabis therapy, and psychotherapy.
Our Space
We are in a stand-alone building located in beautiful Caledon. We are surrounded by nature trails, conservation areas, farms with on-farm markets, and many other outdoor experiences. The access to the Trans Canada trail is 5-minute walk from the clinic.
To enhance your experience, we have carefully designed the space for your safety and comfort. Our treatment rooms feature:
Reclining infusion chairs, blankets, and eye covers.
Therapeutic music to relax and orient you through noise-cancelling premium headphones.
State-of-the-art ventilation and heating system separate from the rest of the clinic, which ensures complete exchanges of air every 30-40 minutes.
A self-contained infusion room that's heated with infrared panels that provide quiet, clean heat.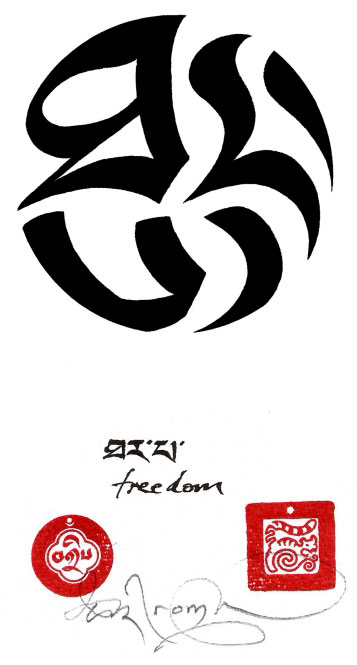 Our Logo.
Our logo is the word 'Tharpa' (pronounced 'Tar-pa') which means 'freedom or liberation' in the Tibetan language.
The four brush strokes inside the logo circle correspond to the Tibetan word 'Thar.pa'.
The logo was created by the world-renowned Tibetan calligraphy master Tashi Mannox.
We chose our logo with our goal in mind.
Our Goal.
At Caledon Clinic our goal is to provide you the best possible care so you may heal and find liberation from your severe mental health challenges.
Beyond the literal meaning of Tharpa (freedom) is the intended meaning:
"The greater goal of an unshakeable freedom from the negative states of mind and their oppressive impact on life."

The Circular Design.
The design is 'drutsa' (roundel) style; in which the stylized letters that make up the word 'Tharpa' are incorporated in a circle, a universal archetype of completion.
The circle is also the circle of connection we have with you, our clients.